Mold Cam Tool & Engineering Inc. is an industry-leading supplier of high precision plastic injection molds used for automotive and non-automotive applications. At Mold Cam, we are committed to serving all of our clients using state-of-the-art technology and equipment, an experienced workforce, and innovative concepts and solutions for the 21st century.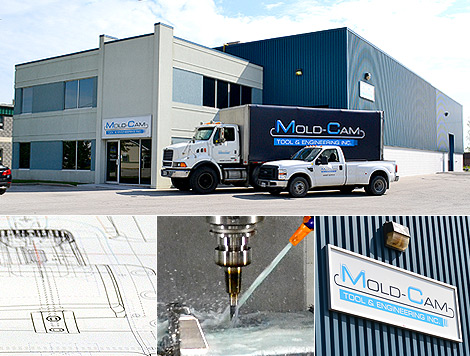 Since 1996, we have built our business on the foundation of three important principles: design it smart, build with quality, and deliver on time. This means we employ expert mold designers to create precise molds from the beginning, we use the finest quality materials to produce the molds, and we complete projects and deliver the molds to our customers on time.
At Mold Cam, we manufacture all types of injection molds in our 12,000 square foot facility located in Tecumseh, Ontario, including standard 2 plate, 3 plate, hot runner, prototype, and insert molds, as well as the latest technologies of gas assist molds.
Our spacious manufacturing facility enables us to build plastic injection molds that range in size from 50 ton to 2500 ton, which are then readily delivered to our clients using our own trucks that are capable of transporting loads up to 52000 lbs. Mold Cam clients know that when they choose us to produce their plastic injection molds, we will work hard to exceed their expectations.